Introduction
Looking for a versatile and powerful laptop that can keep up with your demanding workloads? Look no further than the Lenovo Yoga C940 14IIL! This sleek and stylish 2-in-1 device packs a punch with its impressive specs, including an Intel Core i7 processor, up to 16GB of RAM, and speedy SSD storage. But that's just the beginning – in this complete guide, we'll take a closer look at all the features that make the Lenovo Yoga C940 14IIL stand out from the crowd. Whether you're looking for a portable powerhouse or a flexible entertainment hub, this laptop has got you covered!
Table of Contents
Design and Build Quality
The Lenovo Yoga C940 14IIL is a stunningly designed laptop that exudes elegance and style. It features an all-metal chassis with a sleek, modern design that catches the eye from every angle. The device's compact size makes it easy to carry around while on-the-go, without sacrificing screen real estate.

The hinges are one of the most striking aspects of this laptop's design, as they allow for 360-degree rotation and smooth transitions between tablet mode, tent mode, stand mode and laptop mode. They also provide sturdy support when typing on your lap or desk.
In terms of build quality, the Lenovo Yoga C940 14IIL feels extremely solid due to its premium construction materials. The aluminum body gives it a tactile feel that oozes high-end craftsmanship. This device will withstand daily wear-and-tear without showing any signs of wear even after prolonged use.

This Lenovo model comes in two colors: Mica (silver) and Iron Grey which both look aesthetically pleasing to different preferences. The design and build quality perfectly complement each other creating an outstanding piece of technology that stands out among others in its category.
Display
The Lenovo Yoga C940 14IIL boasts a stunning display that offers crisp and vibrant visuals. With its Full HD IPS touchscreen, you can expect accurate colors, excellent contrast ratio, and wide viewing angles. Additionally, the screen is coated with an anti-glare finish to minimize reflections and eye strain.

One of the standout features of this laptop's display is its ability to support Dolby Vision HDR technology. This allows for even more vivid colors and deeper blacks, resulting in a truly immersive viewing experience whether you're streaming online content or watching your favorite movies.
The Yoga C940 also has a unique feature called "Smart Display". This feature adjusts the color temperature according to the ambient lighting conditions in your environment which reduces eye fatigue over long periods of use.

Moreover, this device has a stylus input that makes it perfect for artists or designers who need precision when working on their projects. The pen works smoothly with low latency making it feel like using an actual pencil on paper.

Lenovo did not skimp out when it comes to the display quality of their flagship 2-in-1 laptop. It's definitely one of the best displays you can get in its price range!
Keyboard and Trackpad
The Lenovo Yoga C940 14IIL comes with a backlit keyboard that is comfortable to type on. The keys have good travel and feedback, making for an enjoyable typing experience. The key layout is also well-spaced, reducing the likelihood of mistyping.

The trackpad is large and responsive, making it easy to navigate around the screen. It supports multi-touch gestures such as pinch-to-zoom, swipe-to-scroll and three-finger swipe to switch between apps. However, some users may find that the click mechanism of the trackpad feels too stiff.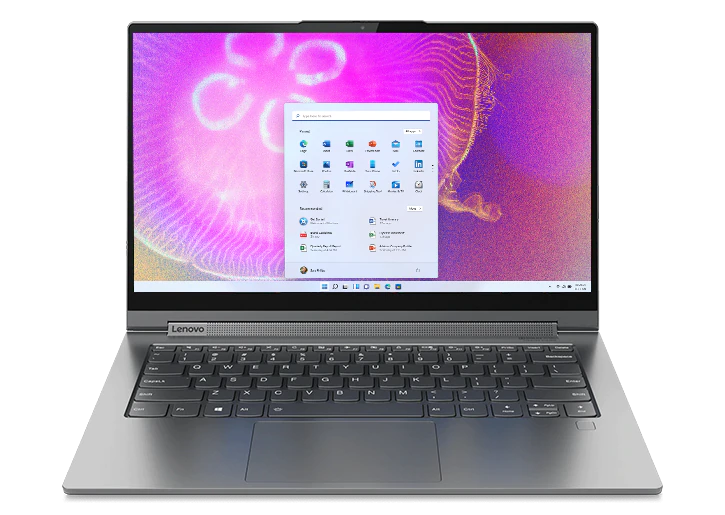 One unique feature of this laptop's keyboard is its included stylus holder in the hinge area. This makes it convenient for users who need quick access to their stylus without having to search through their bag or desk.

The keyboard and trackpad are solid components of the Lenovo Yoga C940 14IIL. While there may be some minor issues with them depending on personal preferences (such as stiffness in clicking), they still provide a great user experience overall.
Performance
The Lenovo Yoga C940 14IIL is a powerhouse when it comes to performance. It boasts an Intel Core i7-1065G7 processor, which has a base speed of 1.3 GHz and can turbo boost up to 3.9 GHz. This means that the laptop can handle heavy workloads with ease.

The device also comes with Intel Iris Plus Graphics, which delivers smooth visuals for graphic-intensive tasks like video editing or gaming. With this GPU, you won't experience any lag or stuttering while using your favorite software applications.
Furthermore, the laptop's 16 GB LPDDR4X RAM ensures that you have enough memory for multitasking and running multiple programs simultaneously without slowing down the system's overall performance.

In terms of storage options, users have two choices: a speedy PCIe NVMe SSD (Solid State Drive) with up to 2TB capacity or an equally fast but smaller option of 512GB M.2 SSD.

If you're looking for a high-performance laptop that can keep up with your needs whether it be productivity-related tasks or entertainment purposes such as gaming and streaming videos – then the Lenovo Yoga C940 14IIL won't disappoint!
Battery Life
The Lenovo Yoga C940 14IIL offers impressive battery life that can last for up to 11 hours on a single charge. This makes it an ideal laptop for those who are always on-the-go and need a device that can keep up with their power needs.

What's more, the battery is fast-charging, which means you can fully recharge it in just a few hours. This feature comes in handy when you need to use your laptop urgently but don't have much time to wait for it to charge.

The long-lasting battery life of the Lenovo Yoga C940 14IIL also ensures that you won't be tethered to a wall socket all day long. You can take your laptop out of the house or office and work from anywhere without worrying about running out of juice.
Additionally, this laptop has been designed with energy-saving features that help extend its battery life further. For instance, its processor is optimized for low-power consumption which ensures efficiency without sacrificing performance.

If you're looking for a reliable and efficient laptop with exceptional battery life, then the Lenovo Yoga C940 14IIL is definitely worth considering.
Audio
The Lenovo Yoga C940 14IIL is equipped with an impressive set of speakers that deliver rich and powerful audio. It boasts a quad-speaker setup, which includes two top-firing tweeters and two down-firing woofers. This configuration ensures that the sound is directed towards you when using the device in different modes.

The Dolby Atmos technology incorporated into the device enhances your listening experience by creating a three-dimensional sound field. Whether you are watching movies, playing games or streaming music, this feature makes everything more immersive and enjoyable.
If you prefer to use headphones, the laptop has a 3.5mm headphone jack that supports high-quality audio output with minimal distortion. The built-in microphone also delivers clear voice recordings for video calls and voice commands.

The Lenovo Yoga C940 14IIL provides excellent audio performance that can rival even dedicated external speakers or headphones.
Webcam and Microphone
One of the features that sets apart the Lenovo Yoga C940 14IIL is its built-in webcam and microphone. The laptop comes with an HD webcam, which delivers crisp and clear visuals for video chats or online meetings. The camera also has a privacy shutter that you can easily slide over when not in use, ensuring your privacy remains intact.

The laptop's dual-array microphones are equally impressive, thanks to their noise-cancelling capabilities. They work together to filter out background noises and enhance your voice during calls or recordings. This means that you don't have to worry about external distractions affecting the quality of audio output.
Another feature worth mentioning is the far-field technology included in this machine's microphone setup. It allows users to communicate effectively with digital assistants like Cortana from up to four meters away without having to raise their voices too much.

Lenovo Yoga C940 14IIL's high-quality webcam and noise-cancelling microphone make it an excellent option for those who need top-grade webcam/microphone performance on-the-go at all times!
Ports and Connectivity Options
The Lenovo Yoga C940 14IIL offers a great selection of ports and connectivity options, making it versatile for various usage scenarios. On the left side of the laptop, you'll find two Thunderbolt 3 ports that support Power Delivery and DisplayPort, as well as a headphone/microphone combo jack.

On the right side is another USB-C port with Power Delivery and DisplayPort capabilities, along with a full-sized HDMI port for easy connection to external displays or projectors. Additionally, there's also a microSD card reader on board for transferring files from cameras or other devices.

Furthermore, this laptop supports Wi-Fi 6 (802.11ax) and Bluetooth 5.0 technology for seamless wireless connections to networks and peripherals such as headphones or speakers.

The Lenovo Yoga C940 14IIL provides ample connectivity options that cater to both professional users who need multiple display outputs and casual consumers who want easy access to their media content through different storage devices.
Software and Security
The Lenovo Yoga C940 14IIL comes with a pre-installed Windows 10 operating system, which is easy to use and navigate. The device also features some proprietary software from Lenovo that complements the user experience. The Lenovo Vantage app allows users to manage and optimize their device's performance, update drivers, and keep track of warranty information.

As for security features, the Yoga C940 has a built-in fingerprint reader that provides another layer of protection against unauthorized access to your device or accounts. Additionally, there is an IR camera that supports facial recognition via Windows Hello. This feature allows you to log into your device without typing in passwords constantly.

Lenovo also includes McAfee LiveSafe antivirus software with a free one-year subscription on purchase of this laptop. This program protects against malware, viruses, and spyware while providing real-time protection against online threats. It automatically scans your computer for any suspicious activity regularly.

The Yoga C940 offers excellent software support coupled with various layers of security options ensuring its users' data privacy and safety in all scenarios possible when browsing or using applications making it perfect for professionals who prioritize privacy over anything else!
Price and Value
The Lenovo Yoga C940 14IIL is a premium laptop that comes with all the latest specifications and features. It is priced at around $1,200, which puts it in the higher price range for laptops. However, when you consider the quality of the build and its impressive performance, this price tag seems quite reasonable.

The design of the laptop itself is sleek and stylish, making it an attractive option for anyone who values aesthetics as well as functionality. The display is also top-notch with vibrant colors and sharp details. Additionally, the keyboard and trackpad are comfortable to use for long periods of time.

In terms of performance, this laptop excels in speed and efficiency thanks to its powerful processor and ample RAM storage capacity. Battery life is another area where this device shines with up to 10 hours on a single charge.

When you factor in all these aspects together — design, display quality, performance capabilities — it becomes clear that the Lenovo Yoga C940 14IIL offers excellent value for money compared to other premium devices on the market today.
Conclusion
After a comprehensive review of the Lenovo Yoga C940 14IIL, it is clear that this device is an excellent choice for anyone who wants a high-performance laptop with versatile features. The design and build quality are impressive, which gives an overall premium feel to the device.

The display offers bright and vivid visuals along with touch screen functionality. Additionally, the keyboard is comfortable and responsive, while the trackpad provides smooth navigation.

With its powerful processor and ample RAM, this laptop delivers outstanding performance that can handle heavy workloads effortlessly. Moreover, users can enjoy extended battery life without needing to charge frequently.

Furthermore, the audio quality on this laptop is remarkable as well as Webcam produces sharp images complemented by decent microphones providing clear sound during virtual meetings or online classes.

In terms of connectivity options, users have access to multiple ports making it more convenient for them to connect various peripherals simultaneously. Also including software security features further increases its versatility value proposition.

Lastly comes at an affordable price tag in comparison with other laptops having similar specifications makes it one of the best choices available in today's market!

We highly recommend Lenovo Yoga C940 14IIL due to its exceptional performance capabilities combined with excellent design aesthetics setting itself apart from others in its category!